Caregiving definitely takes its toll on a person – physically and emotionally. Whether you are a family caregiver or a professional one, you need to find time for yourself. While focusing on your job or duty to your family member is admirable, it is important to find the right balance between that and your own personal goals and interests – that's what makes you an effective and efficient caregiver.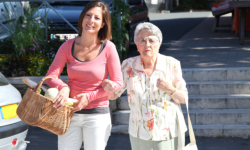 Here are some helpful ways to manage caregiver stress:
Take a break. Having some time to yourself will do wonders for your mind and body. After all the stress you've experienced, you need to take a vacation to relax and recuperate your strength. Do whatever it is you feel you need to do in order to get yourself in the best mind and body set.
Set health goals for yourself. You need to be aware of your body's limits and not overwork yourself. To be an effective and efficient caregiver is to keep yourself in the best of health. When things get a bit too much for you to handle, don't hesitate to take a break or ask for help.
Turn to your loved ones for support. Your friends and family members are more than willing to offer you the support you need. Don't hesitate to turn to them whenever you get too overwhelmed with your job as a caregiver or situation caring for a sick, disabled, or elderly loved one.