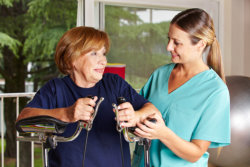 At Physicians Choice Health Services, our team includes Licensed Occupational Therapists (OT) who can help patients in their recovery journey. Occupational Therapists can provide rehabilitative and therapeutic services for our clients who want to regain control and independence with day-to-day activities.
Set an appointment soon for us to conduct a comprehensive assessment of your recovery needs. Occupational Therapy services may include:
Cognitive Activities
Interaction Activities
Gait Training Exercises
Motor Processing Activities
Occupation-Based Exercises
Re-education of Basic Living Skills
Interested in learning more? Contact us at 972-459-9264 for more information. You may also Set An Appointment to meet with our Licensed Occupational Therapist.