At Physicians Choice Health Services, we offer the expertise of our skilled nurses – either a Registered Nurse (RN) or a Licensed Practical Nurse(LPN). They have the training and experience required to provide skilled nursing services in your home. The nurse communicates frequently with your physician to update your plan of care.
Services may include: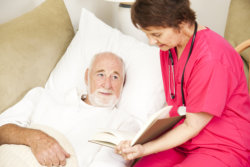 Evaluation of patient needs
Performance of skilled nursing procedures
Education of patient, family members and caregivers on disease processes
Pain management
Medication management
Wound care
Podiatry (advanced wound care of foot ulcers and other podiatry needs)
Diabetic Care/Education
Bloodwork
HTN Monitoring
Ostomy care
Cardiac Care
Safety education to prevent fall risks
Infusion services
Self-care techniques and prevention strategies
Coordination of patient care and services with your physician and other health care team members
Please don't hesitate to give us a call at 972-459-9264 for service arrangements or more information. You may also Set An Appointment at your convenience.