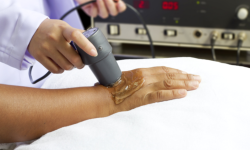 Let us debunk the 3 most common myths about Part A and Part B therapy services.
Myth Number 1: In order for a person to be eligible for Medicare Part A Home Health Services, he or she must have a need for skilled nursing.
While it is true that all patient needs, including nursing care needs, are addressed by home health services, Medicare Part A also covers home health care services for individuals with therapy-only needs. It is very much possible for a patient to be admitted to home health with a need for either speech or physical therapy only.
Myth Number 2: For one to qualify for home health, he or she must have been recently discharged from a hospital or rehab facility.
Entitlement to Medicare Part A coverage of home health services extends to patients who have never been treated in a facility. Physical therapy, speech therapy, occupational therapy, skilled nursing, home health aides, and home health aides can still be accessed by these patients for as long as they qualify.
Myth Number 3: Patients under Medicare Part B are entitled to more therapy visits than those under Medicare Part A covered home health
The number of therapy visits patients can receive through Medicare Part A home health is limitless. The physician determines the frequency as well as the duration of therapy which he or she bases upon the evaluation performed by the occupational therapist, physical therapist, or occupational therapist. If therapy is justified, reasonable, and medically-necessarily, then it may be performed for as much as on a daily basis.